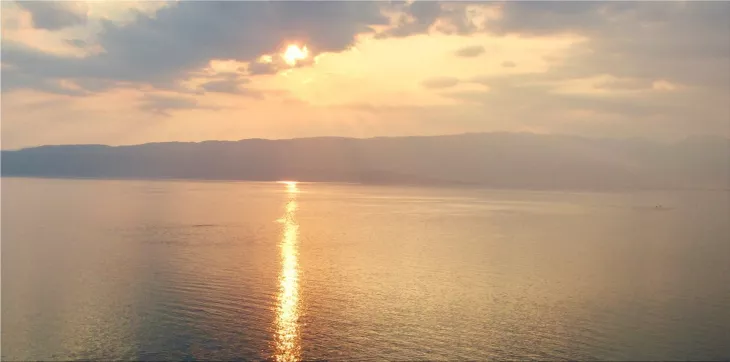 Lake Ohrid is one of the deepest and oldest lakes in Europe and hosts a unique aquatic ecosystem with over 200 species. Lake Ohrid is part of the UNESCO World Heritage.
Ohrid is the former capital of Macedonia, so it offers many historical attractions. The number 1 attraction is undoubtedly the old fortress dating from 997 AD. Situated on a hill, the medieval town with its cobbled streets is a landmark for tourists.
July and August are the most popular summer months, the beaches are animated by locals and tourists. Where can you cool off after a few hours of walking? Ohrid Boardwalk and City Beach are popular places for bathing and a walk. Also, by the lake, you will find the most famous bars and restaurants.
Each beach is unique in its own way, attracting young people, families or people who want to isolate themselves. Labino is another beach, small indeed, but uncrowded and with clear waters. Ljubaništa, near the border with Albania, is a sandy beach, and most travellers arrive here for the unforgettable sunset. At night the place becomes magical, thousands of lights in the distance and those in the port create the ideal holiday image.
Probably the most photographed place in Ohrid is the Church of Saint John built in the 13th century, which overlooks an impressive view of the lake. Reach it in a 15 minutes walk from the port area and once revealed you will understand why the medieval monks found spiritual inspiration here.
If you visit Ohrid in the second half of July, you will witness the world's swimming elite. The 30-kilometre marathon begins at St. Naum and is internationally recognized.
A very well-preserved merchant's house, dating from 1863, is the Ohrid National Museum. The building itself is popular due to its architecture, is considered a masterpiece.
From July 12 to August 20, you can participate in the summer festival, one of the largest cultural events in Macedonia. The program of the event includes classical opera and concerts, dance and theatre organized in different locations, with renowned artists from all over Europe.
The town and lake of Ohrid are an inspired choice, regardless of the season for the beauty of the landscapes and thousands of local historical stories.
The Macedonian city can be an ideal holiday destination for any tourist. A night of accommodation on the shores of Lake Ohrid reaches somewhere around 20 euros, which is way too little.